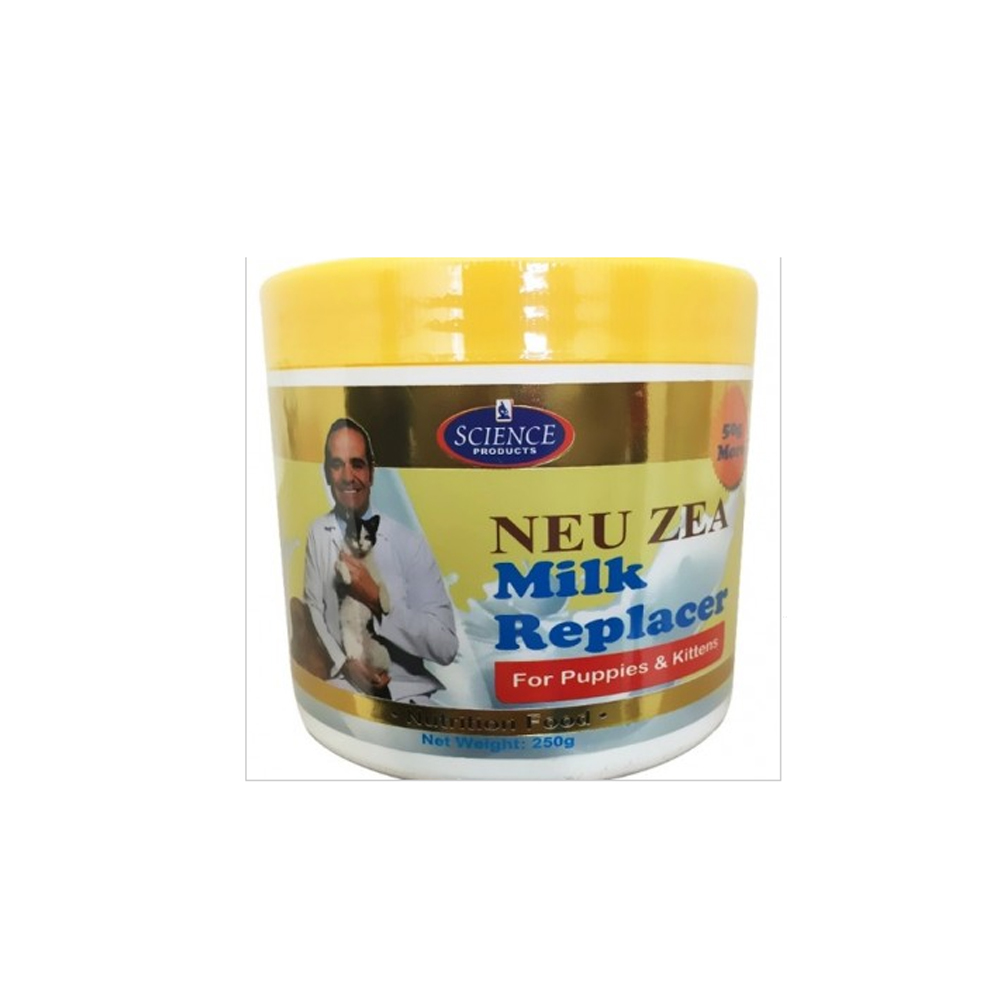 SCIENCE PRODUCTS Neu Zea Milk Replacer for Puppies & Kitten,250g plus 50g
For puppies and kittens
Nutrition Food
Balanced composiiton of nutrients for young animals
Made in New Zealand
Neu Zea Milk Replacer is a milk replacer for orphaned puppies/kittens and malnourished animals (ie those who don't get sufficient milk supply from their mothers).
Neu Zea also has low lactose levels whilst maintaining the sufficient amount of nutrients required by young and active animals.
It contains all the proteins, fats, carbohydrates, vitamins,minerals and amino acids that puppies and kittens needed for optimal growth.
NEU ZEA GUARANTEED ANALYSIS (as a powder):
CRUDE PROTEIN, min : 26.0%
CRUDE FAT, min : 20.0%
CRUDE CARBOHYDRATES, min : 42%
MOISTURE, min : 2.0%
Directions
Allow puppies/kitties to nurse on mother's milk fir at least 2 days. Add one level measure of powder to 10 level measures of boiled, warm water. Mix solution well. Amount used should be adjusted to meet the individual animal's nutritional requirements.
Kitten / Puppy (less than 1 week old) : 3/4 teaspoon / 3 hours
Kitten / Puppy (1-4 weeks old) : 1-3 teaspoons / 4 hours
Whelping Mother : 2 teaspoons / 5lb
Adult Dog & Cat : 2 teaspoons / 5lb
Storage
Store below 30°C (Room Temperature). Protect from light and moisture. Close lid tightly after use.
Disposal
Dispose of empty container by wrapping with paper and placing in garbage.
Consult your veterinarian for advice.
Neu Zea is suited for feeding most puppies and kittens. When puppies and kittens are old enough to lap, begin offering reconstituted Neu Zea in a shallow container. This will allow the puppy or kitten to gradually switch to solid food.
Expiry: 12/2018
What's in the box?
1 x SCIENCE PRODUCTS Neu Zea Milk Replacer for Puppies & Kitten,300g plus 500g