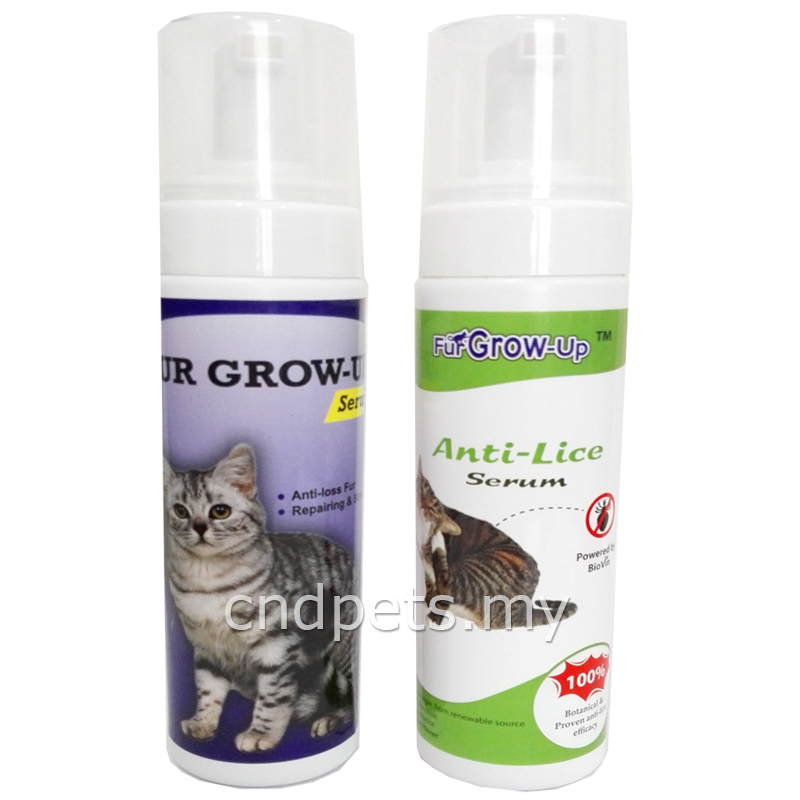 Fur Grow Up Serum and Anti-Lice Combo for Cats, 220mL x 2, R05051
Fur Grow Up Serum Combo Pack, 220mL x 2
Essentials for all cat owners
Anti-Loss Fur
Anti-Lice
No Rinse Formula
Non Toxic
For Cats ONLY
Fur Grow-Up Serum 220mL
Fur Grow-Up Serum is a deep nourishing, protects against dry and humid weather and improves hair texture.
Anti-loss fur.
Repairing & Strengthening.
How to use: Apply the serum on cat fur. No need to rinse.
Ingredients: Aqua, Soy Bean and Wheat Extract, Amino Acid, Surfactant, Preservative, Fragrance.
This serum is for cat only.
Expiry: 12/12/2018
Fur Grow-Up Anti-Lice Serum 220mL
Anti-Lice Serum for Cats provides fast effective , convenient treatment and control of fleas, ticks and chewing lice for cats and kittens.
Powered by BioVin.
100% Botanical & Proven anti-lice efficacy.
Natural origin, from renewable source.
Safe/Non-toxic.
Hair conditioning.
Directions: Apply serum on cat fur. No rinsing required.
Ingredients: Aqua, Surfactants, Glycerin, BioVin, Natural Fragrance.
For cats only.
Expiry: 22/07/2018
What's in the box:
1 x Fur Grow Up Serum Cats, 220mL
1 x Fur Grow Up Anti-Lice Serum Cats, 220mL