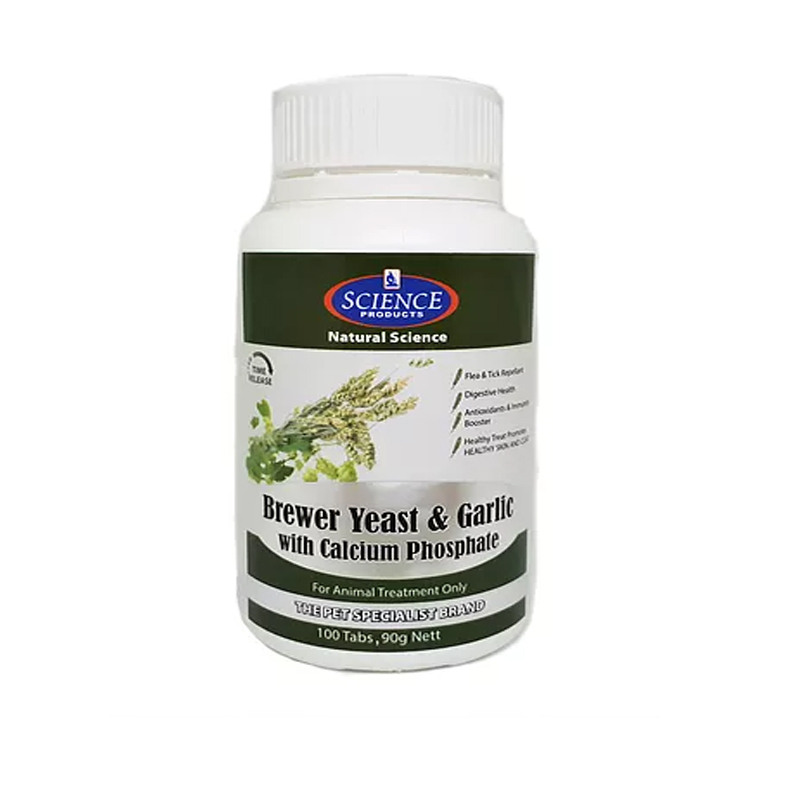 SCIENCE PRODUCTS Brewers Yeast & Garlic + Calcium Phosphate, 100 tablets
Flea & Tick Repellent
Digestive Health
Antioxidants & Immunity Booster
Health Treats Promotes Healthy Skin & Coat
For Cats and Dogs
100% Genuine Products
Made in Australia
Yeast and Garlic treats are made of natural Debittered Brewers Yeast- a rich natural source of Vitamin B, protein and amino acids.

Garlic powder enhances the effectiveness of the tablet, making it a nutritious everyday treat that your pets will enjoy.

Calcium phosphate assists the development and strengthening of bones and teeth.
Available In: 100 tablets
Caution: For Animal Use Only. Keep out of reach from children. Do not leave product unattended around pets. In case of overdose, contact your vet immediately.
Directions for Use:
Daily Dosage: Feed as a treat or crush and mix with water.
Feeding Table:
Puppies (6 wks - 8 mths)
Up to 1 treat per kg bodyweight

Adult Dogs
1 Treat Daily per 3kg bodyweight

Pregnant/Nursing Dogs
Twice normal dosage rate

Kittens
1/4 treat during weaning
4 treats after 6 mths (crushed and mixed with food)

Adult Cats
Up to 3 Treats Daily

Pregnant/Nursing Cats
Up to 6 treats daily
Ingredients:
Brewers Yeast, Garlic Powder, Di Calcium Phosphate, Colloidal Silica,
Magnesium Stearate.
Expiry: 13/2019
What's in the box?
1 x SCIENCE PRODUCTS Brewers Yeast & Garlic + Calcium Phosphate, 100 tablets