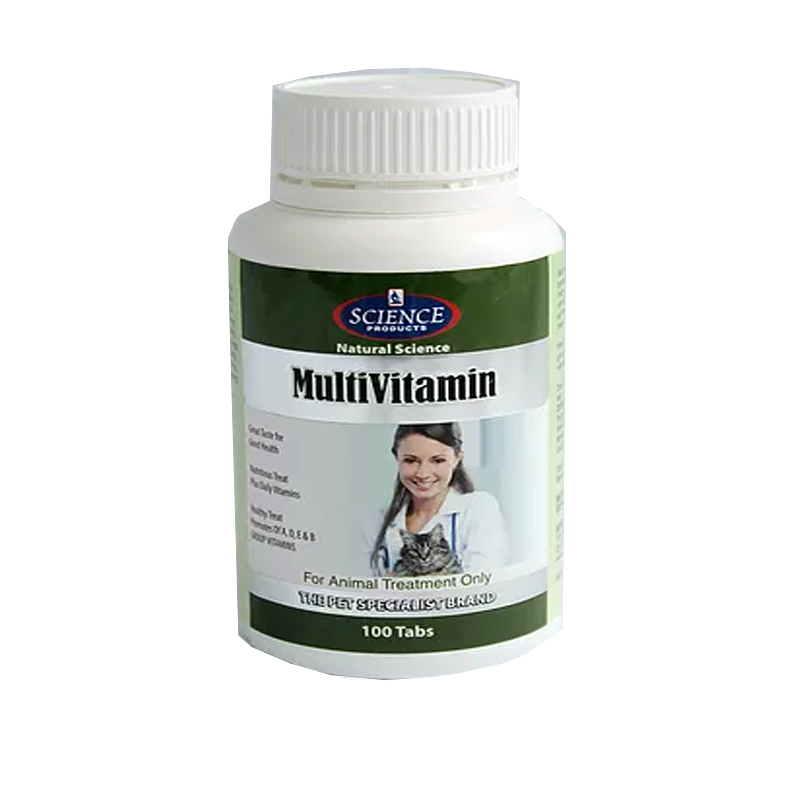 SCIENCE PRODUCTS Multivitamin, 100 tablets
Great Taste for Good Health
Nutritious Treat Plus Daily Vitamins
Healthy Treat
Promotes of A, D, E & B Group Vitamins
For Cats and Dogs
100% Genuine Products
Made in Australia
Multi Vitamin Treats have specially been formulated to provide a nutritious treat that your pet is sure to enjoy.
Essential nutrients are incorporated into every tablet, ensuring that your pet is provided with the supplements it requires to remain healthy.
These treats serve as a more economical option as there is no more need to buy both treats and vitamins.
Available In:100 tablets
Caution: For Animal Use Only. Keep out of reach from children. Do not leave product unattended around pets. In case of overdose, contact your vet immediately.
Daily Dosage: Feed as a treat or crush and mix with water.
When administered at recommended dose rates, this product provides an extra 25% of vitamins A, D, E and B.
Feeding Table:
Puppy/Kitten
1 treat daily

Small Breed Dogs & Cats
1 Treat Daily

Medium Breed Dogs
2 Treats Daily

Large Breed Dogs
1 Treat per 10kg body weight daily

Pregnant/Nursing Cats
2 Treats Daily

Pregnant/Nursing Dogs
Twice normal dosage rate

Ingredients:
Vitamins, Brewers Yeast, Di Calcium Phosphate, Garlic Powder, Colloidal Silica, Magnesium Stearate, Talc Purified
Expiry: 03/2019
What's in the box?
1 x SCIENCE PRODUCTS Multivitamin, 100 tablets