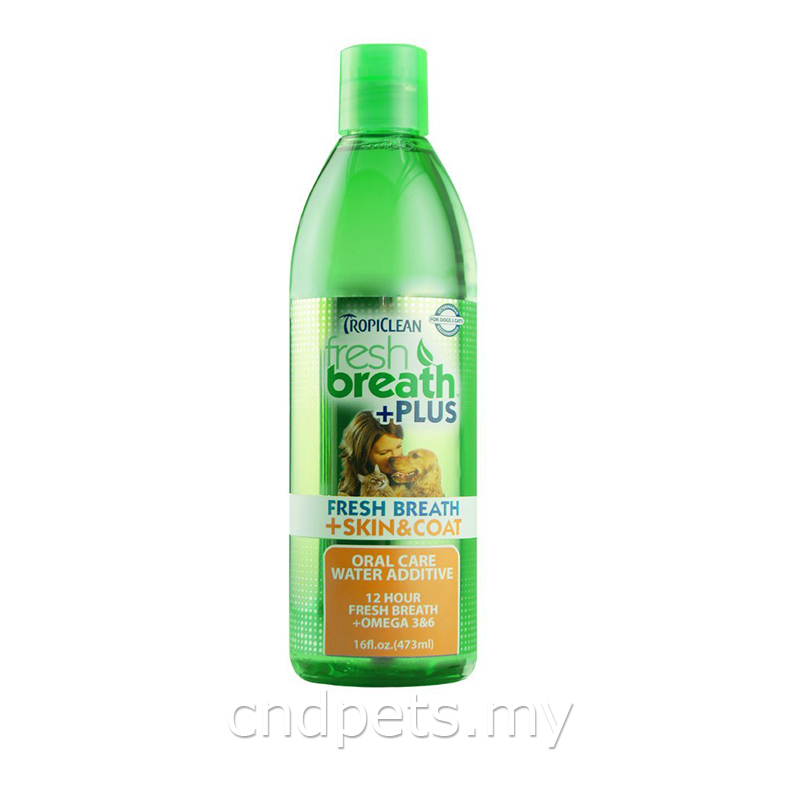 TROPICLEAN Water Additive Fresh Breath plus Skin & Coat, 473mL
For Healthy Skin, Coat & Mouth
For cats and dogs
Veterinarian Recommended
12 hours Fresh Breath
With Omega 3 & 6 Fatty Acids
Original products
Made in the USA
Oral care is about more than making your pets' smiles sparkle, it's an important component of their overall health. In fact, 80% of dogs and 70% of cats begin to show signs of oral disease by age 3. Oral Disease can eventually lead to tooth loss and other serious health problems. With TropiClean Fresh Breath Oral care Water Additive Plus Skin & Coat, dogs and cats can benefit from daily plaque and tartar defense, simply by drinking from their water bowl. Plus, omega 3 & 6 fatty acids promote healthy skin and coat. Easy to use for both you and your pet - no brushing required.
Directions: Simply add one cap full to your pet's water bowl (approximately) 16 oz (473mL) every time you refill it.
Ingredients:
Purified Water, Citric Acid, Cetylpyridinium Chloride, Chlorophyllin,Glycerin, Potassium Sorbate, Omega 3 and 6 Fatty Acids, Green Tea Leaf Extract.
Expiry: 10/2021
What's in the box?
1 x TROPICLEAN Water Additive Fresh Breath plus Skin & Coat 16fl oz, 473mL